Garage space is prime storage real estate — use these tips and ideas for garage storage to maximize this valuable storage space in your home!
According to a recent survey of homeowners, 25% of homes with two-car garages don't park any cars in their garage. The purpose of a garage is to protect your vehicle (typically one of your largest investments) from the elements, but instead, many of us tend to view the garage as a dumping ground for clutter.
What a great reason to make "optimizing garage storage" a priority on your To-Do list.
The Saturday following Labor Day has been earmarked as National Clean Out Your Garage Day, which serves as the perfect opportunity to roll up your sleeves and tackle this often-neglected space.
Are you shuttering at the idea?
Perhaps a bit of visual inspiration (mixed in with a few helpful ideas for garage storage) will serve as the motivation you need to complete your garage overhaul during the weekend (so that you can finally reclaim your parking space.
Ideas for Garage Storage: How to Maximize Space
Use Garage Wall Space for Storage
The most important rule of garage organization is to clear everything off of the floors as much as possible. Items should be stored vertically on the walls.
There are countless wall storage systems for residential garages on the market that enable homeowners to take advantage of every square inch of vertical space.
Use Garage Ceiling Space for Storage
Don't forget that there's usually valuable storage space to be gained above your garage doors via ceiling-mounted shelving.
Create Garage Storage Zones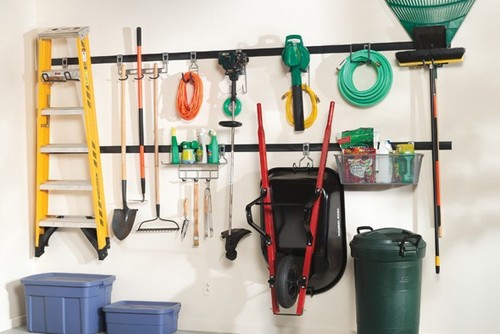 This image illustrates another primary rule of thumb for organizing a garage — create zones for the various types of items that you store in the space.
For instance, most garages will have a Lawn & Garden zone and a Tool Zone. Other typical zones might include:
Sports Equipment

Kid's Toys

Car Care

Chemicals/Paint

Gardening Supplies
(see my garage organization tutorial for a more comprehensive list of potential garage zones).
Use Plastic Storage Containers in the Garage
One final tip for organizing the contents of your garage is to use
plastic storage bins
(as opposed to cardboard boxes). Cardboard typically does not fare well in environments that are not climate-controlled–such as garages, attics, and basements.
In addition, critters tend to gravitate toward cardboard, which can lead to some not-so-pleasant surprises when you go to retrieve the contents of those boxes in the future.
I hope you found these storage ideas for the garage helpful and inspiring! Looking for more garage organizing inspiration? Check out my Garage Organizing Products Shop, as well as these posts: